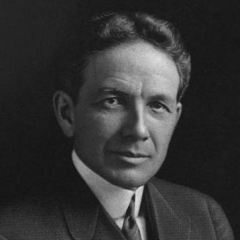 Time for a break. I will be taking a hiatus in order to finish a languishing project I started last year. It is a book, a semi-fictional account of an extended episode in the life of one of America's most remarkable characters of a hundred years ago: Billy Durant.
Billy didn't have a big ego, so his creation was never named after him, so nobody knows about him. Don't be fooled by his humility, he was to his age what Steven Jobs was to ours and he changed the face of his industry. His story follows the classic three-act drama, which I want to present for today's generation to enjoy.
Act 1: 1886 – 1903

On a bit of a lark (and with nothing) Billy decides in his early twenties to buy a company making horse-drawn buggies. In less than ten years that company becomes the world's largest manufacturer of horse-drawn vehicles. The company is known for its generous treatment of the employees — so much so that the wave of industrial unrest sweeping the country completely bypasses Billy and his company. By the age of 40, he has become Flint's most prominent citizen but, bored, he moves to New York to participate in the fledgling stock market. He is good at that and his wealth continues to increase.
Act 2: 1903 – 1910
Billy sends one of his stressed executives to Europe to recover. However, upon his return, the executive tells Billy the horse-drawn vehicle business is doomed. He resigns while Billy scoffs at the motion that this newfangled automobile craze will hurt his business. "Why, we have a six-month backlog." Billy hates automobiles: noisy, loud and dangerous.
On a visit to Flint, Billy steadfastly rebuffs a fellow businessman's attempts to lure him into his Buick… until he learns the man wants to sell him not a car, but the whole company. Well, that is different. Bored with life, Billy takes up the challenge. His golden touch turns Buick into the number one automaker in America within 5 years.
J.P. Morgan and the Wall Street establishment look down their noses at the upstart from backward Michigan, but they recognize his golden touch and approach him with a view to create a consolidated auto company called United Motors. Billy agrees, but only if Henry Ford is included. Ford is in, along with Ransom Olds, the Lelands (who turned Ford's failed second company into Cadillac) and of course Billy's Buick. The deal falls apart when Ford and Olds insist on cash. Morgan is a Wall Streeter, which means his business is stocks, which is why he only wants to buy with stock. Indignant that country bumpkins want to tell him how to do things, he sends them home packing.
Unfazed, Billy says who needs Wall Street? He heads back to Michigan to form his own creation, General Motors, with Cadillac, Buick, Olds and Oakland/Pontiac. Unlike Morgan and his stocks, Billy funds his empire with debt. GM is wildly successful (as Billy's ventures tend to be) but a recession causes GM to miss payments on the debt. To save the jobs of all his workers, Billy is forced to call in help from the Wall Street crowd. They agree, but at the first board meeting they fire Billy from his own company.
Betrayed, Billy vows: You have not seen the last of Billy Durant.
Act 3: 1910 – 1916
The Wall Streeters promote Charlie Nash ("the" Nash) to run GM their way. Nash does what all unimaginative bean counter CEOs do: he slashes costs, lays off thousands, cuts benefits… and cuts Buick's successful auto racing team. Billy approaches one of the laid-off racing drivers and starts another auto company. The driver's name? Louis Chevrolet. (See, you're beginning to nod and smile already. Told you it's a terrific story.)
With Billy at the helm, Chevrolet is a runaway success while the Wall Street-run GM sputters and stumbles. Calmly and shrewdly, Billy applies what he learned from his time in the stock market. He uses Chevrolet's high-PE stock to raise money and buy GM's low-PE stock for cheap. (You can read more about PE here and here.)
As the 1916 GM annual stockholder meeting winds down, a hand is raised from the audience. The board recognizes Billy and allows him to speak. Calmly, he introduces a formal motion to fire the entire board of directors. Aghast, they try to shut him up. However, by law they are required to count votes. Chevrolet owns 54% of GM stock, which means Billy's motion carries… and in the classic story of redemption, he's back!
In effect, Chevrolet takes over GM (which, incidentally, accounts for Chevrolet's prominence in today's GM branding). Billy, his redemption complete, shows Nash the door and makes Walter Chrysler America's highest paid executive to run the day-to-day operations for the new GM.
I think that is a terrific story. I want to see if I can bring it to life in words, so that is what I will focus on for the next few months.
Billy, unselfish, made most people around him exceedingly wealthy. It is no coincidence that both of New York's prominent skyscrapers, the Empire State and Chrysler buildings, were both built with money Raskob and Chrysler respectively made from their partnership with Billy Durant and General Motors.
Wish me luck (and a publisher) as I finish the good story.
I will send out an email to subscribers when "the regular" Bite the Bullet Investing resumes. Have a great summer!