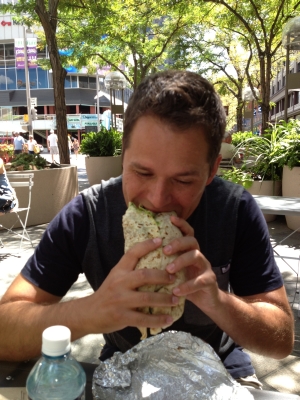 Exhale! Black Friday and Cyber Monday are over, and your life (read: holiday shopping) can settle down to steady insanity again. 🙂 Welcome to the Carnival of Money Pros, brought to you to by the good folks at the Money Pros Team. Should you wish to add your contributions to a forthcoming carnival, you can submit your articles at Blogger Carnivals.
On to the fire hydrant of personal finance wisdom…
Holly @ Club Thrifty writes Avoiding Obamacare: Screw You Guys, I'm Outta Here – Avoiding Obamacare has become my goal over the past few months and I think I found a way to do just that. Read about it here.
Pauline @ Reach Financial Independence writes Nice try, Amazon… – I saw that lovely model by Samsonite. WOW, discounted from $200!! I would save 69% according to Amazon!
Pauline @ Make Money Your Way writes Is blogging a MLM scam? – Does selling products on your blog for other people to succeed in making money online make you a scammer?
Don @ Money Reasons writes My 401k Contribution Mistake This Past Year – This year, my 401k Contribution is causing me a lot of financial discomfort.. Read the causes and my attempt to deal with it.
Crystal @ Budgeting in the Fun Stuff writes Growing a Blog – Sorry, It Takes Time – A bunch of you have emailed me over the last 2-3 months asking how to grow your site as fast as humanly possible.
Wayne @ Young Family Finance writes Easy & Best Way to Do Your Christmas Shopping – It's almost Thanksgiving, and while that means a lot of things, it means, perhaps most importantly, that Christmas shopping is in full swing. Regardless of whether you are planning to hit the shops on Black Friday or not, you need a plan to do it the right way.
Suba @ Broke Professionals writes How Much Should De-Stressing Your Life Cost? – We all have stressors. Some of them are the little nagging ones, like getting to daycare on time to pick up the kids and avoid extra charges.
Kyle @ The Penny Hoarder writes 4 Ways to Save Money on Your Small Business Expenses – If you have a small business, it is almost just as important to minimize expenses, as it is to generate more revenue. If you don't watch your expenses, you could easily find yourself running a deficit and struggling to maintain your business. Here are some simple tips to save money on your small business expenses.
Eva Baker @ TeensGotCents writes Faithful With a Few – Khaleef Crumbley – Khaleef Crumbley of 'Faithful With A Few' shares the story behind starting a biblical finance website and gives teens tips and ideas on managing money.
SavingMentor @ How To Save Money writes Insurance: Can You Get A Better Rate? – Insurance, more than any other product or service I pay for, makes me nervous …
Lindy @ Minting Nickels writes Credit Card Myths: Are They Really What They Seem? – The typical wallet might have at least one credit card inside it.
Tushar Mathur @ Everything Finance writes The Four Gift Rule – The four gift rule is the perfect way to cut down on materialism this Christmas all while still giving your kids exactly what they want.
Daisy @ Suburban Finance writes Cheap Things to Do on New Years Eve – Looking for an inexpensive new year celebration? We have listed some cheap things to do on new year's eve (NYE on the cheap).
Minimalist @ Minimalist Finance writes Batch Cooking to Save On Your Grocery Bill – Batch Cooking to Save On Your Grocery Bill has been published on Minimalist FinanceThere are many ways to cut back your grocery budget, such as shopping at discount stores, using coupons, and even shopping at stores like Costco to buy in bulk.
JP @ My Family Finances writes Shopping Online or In the Store: See Which One Is More Cost Effective – You will find that eCommerce allows you to maintain the highest profitability based on lower costs and increased sales.
Tushar @ Earn More and Save writes How to Find Good Deals on Last Minute Christmas Gifts – Christmas is quickly approaching. If you're like me you've done a little bit of shopping but still have quite a ways to go. I, for one, am not the type to battle the crowds on Black Friday to find a few deals.
Bargain Babe @ BargainBabe.com writes My Christmas Shopping Secret to Save Extra 10% Off Everywhere – My Christmas Shopping Secret to Save Extra 10% off Everywhere – discounted gift cards!
Cindy @ MidLife Finance writes How to Retire the Cheapskate Way – What if you could retire better, earlier, happier — now or in just a few years?
Debt Guru @ Debt Free Blog writes College Finance: Tips for Starting a College Fund – Everyone knows how expensive college is. However, by utilizing a few of the tools listed below you too can begin saving for college.
Maria @ The Money Principle writes Is saving really a virtue? – Saving builds savings; you are still working for your money. Start investing and make you money work for you.
Crystal @ Married (with Debt) writes My 2014 Financial Plan – Rather than prepare a list of financial goals, I've chosen to instead craft a solid financial plan ahead of 2014, with a goal of sticking with it for 2014.
Hank @ Money Q&A writes The Three Best Online Shopping Tips And Tricks I Have Heard All Year – Scott Elling from CouponPal.com has several incredible online shopping tips and tricks for saving a ton of money this holiday season with coupons and other shopping life hacks.
Michelle @ The Shop My Closet Project writes Black Friday Pay Off Challenge-Did I Succeed?? – I decided about a month ago to pay off a credit card on Black Friday. I'm not anti-Black Friday.
Cat Alford @ Budget Blonde writes How to Avoid Big Purchases and Deal with Emergencies – If you want to know how to avoid big purchases and be better prepared to deal with financial emergencies, look no further than this post!
Roger the Amateur Financier @ The Amateur Financier writes Keep Your Cyber Monday (and Other Holiday Shopping) Inexpensive – A list of advice on how to keep your online shopping relatively inexpensive, looking at rebate sites, free shipping, coupon codes, and comparison sites for shopping.
Jacob @ AllPersonalFinance writes Five Great Tips For Cutting The Cost of Owning a Business – Every business has a certain amount of overhead that cannot be avoided. These expenses make it possible to produce products or deliver a service. Many other costs, however, can often be lowered. Lowering ownership costs can increase margins and revenue over time. There are five great tips for cutting the cost of owning a business.
Luke @ Learn Bonds writes What Recent Bond Market Volatility Means For Investors – Here's what you need to know.
Mike @ Personal Finance Journey writes Christmas time and your credit card spend – Do you understand completely your credit card and its features this Christmas before you begin spending? Are you using the right card for you the right way?
Tony @ We Only Do This Once writes Debt to Income Ratio Calculator – If you are trying to get a loan or a line of credit you may want to check your Debt to Income Ratio with an online debt to income ratio calculator.
Tushar @ Finance TUBE writes 5 Secrets of Successful Savers – Are you a saver or a spender? There are several things you can do if you make saving more natural or spender. There are also strategies you can use that will help your children become savers and set them up on a path to wealth.
Don @ MoneySmartGuides writes Beginners Guide to Power of Attorney – The idea of power of attorney can be a complicated one. It is important that you understand the logistics of how power of attorney works before you are in the situation of being one.
Mrs. Accountability @ Out of Debt Again writes Why Should You Stop Payment on a Check? – Checks are being used less by ordinary people, but the check business is alive and thriving in businesses.
Lauren @ L Bee and the Money Tree writes Holiday Gift Ideas for Pets (Giveaway!) – Do you give your pet a gift every holiday? It may sound weird to some, but for as long as I can remember, my family has been gifting our dog a present. Usually just one or two that stays wrapped underneath the tree. My mom is really good at remembering to always gift the family.
CAPI @ Creating a Passive Income writes Single Day Jobs: Making Money Quick – Your demand for extra cash need not be dire to be worthwhile. There are a number of legitimate ways to make money quick – read here for a few ideas.
Brent @ PersonalFinance-Tips writes Make More Money: Real Estate Tricks to Flipping Houses – Flipping real estate for a profit is not nearly as easy as some of the TV shows might suggest, but there are many professional house flippers who can attest to the profitability of this income opportunity. By following a few helpful tips, flipping houses can become a profitable and exciting income source for you.
Dominique Brown @ YourFinancesSimplified writes Do This Not That! Obamacare Scams to Watch Out For – this dysfunctional federal website has spawned a range of Obamacare scams all over the internet.
SBB @ Simple Budget Blog writes The Physical Manifestations of Keeping a Budget – How maintaining a budget can keep you healthier for years to come.
IMB @ Investing Money writes Investing in Drone Technology – Ten years ago, the US had 50 drones in service. Drone technology is spreading quickly from the military to the private sector.
Ted Jenkin @ Your Smart Money Moves writes Why Does Generation X Have Lifestyle Envy? – It's official. For years and years everyone has labeled my generation (Generation X) the slacker generation.
Ryan @ Cash Money Life writes Bitcoin: Investment or Speculation? – Bitcoins are an entirely digital currency that is growing quickly. People want to know if they are a good investment, or if we are nearing a Bitcoin bubble.
Tushar @ Start Investing Money writes What Has Happened With Twitter's Shares Since the Launch Date? – When Facebook launched their IPO it went through more than its share of teething troubles. Twitter took heed of those mistakes and was decidedly more cautious when it came to launching its own IPO.
Nicole @ How to Avoid a Cashtastrophe writes Paying for Your House to be Cleaned – Paying to have somebody come in to clean your house can be expensive. This post outlines a few reasons why it's unnecessary to do so.
Stu @ Poor Student writes Why You Should Graduate ASAP – Graduating from school as soon as possible can do a lot for your finances. It benefits a lot of people to be able to do so.
Daisy @ Suburban Finance writes Cheap Things to Do on New Years Eve – New Year's Eve is notoriously expensive, but it doesn't have to be that way. There are some fun things to do at home to ring in the new year, too.
Irfan @ Everything About Investment writes Warren Buffett: How to teach your children about money – Warren Buffett is one of the most famous billionaires in the world. He also loves sharing his advice with kids as part of his Secret Millionaires Club. Here, he answers five questions, including what he thinks the biggest mistake is that parents make when teaching their kids about money and how he learned about money.
Sarah @ BloggerPreneurship writes How to Think of Blog Article Ideas – It is very difficult to think of blog article ideas. As a blogger and entrepreneur, you rely on your blogs and websites for at least a portion of your income. Whether or not blogging is directly related to your income or it drives customers to your actual business, having fresh new content is incredibly important. This is no surprise, but what may be surprising to you is how difficult it is to find topics to write about on a consistent basis.
Daniel @ Make Money Make Cents writes It's Time To Stop Trying to Keep Up With The Joneses – Keeping up with the Joneses is the phenomenon of using your neighbors as a standard for which to compare your own life and material goods.
Oscar @ Money is the Root writes Shop a Little Smarter This Holiday Season – Tis the season of giving, right? Wrong! It's more like the season of shopping and buying things for others.
Jay @ Daily Fuel Economy Tip writes Five Ways for Parents to Save on Tutoring – You may be starting to notice your child's strengths and weaknesses in school, as far as grades go. There is a solution: tutoring.
Danielle @ Saving Without a Budget writes What you should be Teaching your Teenager about Credit – One of the basic goals of every parent is to teach their child the lessons they need to know to be able to make it on their own when they become adults. Of all those lessons, one of the best that you can teach to your kids is how to handle credit.
Matt @ Budget Snob writes How your Upbringing Affects your Money Habits Part 2 – Something that most people do not realize is that how they were raised as children can actually have a big impact on how they make decisions as adults, especially with money.
Jack @ Money Saving Ethics writes Old Fashioned Money Saving Tips that Still Work – These days everyone is looking for newfangled ways to save money and, in the rush to do it, some people overlook old-fashioned tips and tricks that have been around for ages.
Amy @ Money Mishaps writes Online and Mobile Retail make Black Friday practically obsolete – Ladies and gentlemen, here is a certifiable fact; marking down prices for Christmas is an American tradition. Here is another fact that is a bit newer; today, those markdowns and bargains come right to you at home so there is no need to actually go to the store to get them.
Lenny @ Best Money Saving Blog writes Frugal Habits that you can Copy from the Rich – We put together a number of frugal habits that the upper class have taken to using. Use them yourself and you will build financial independence and long-lasting wealth.
Hadley @ Epic Finances writes Do Exchange-Traded Funds have an Advantage over Index Mutual Funds? – One of the questions that we frequently get is whether or not there is an advantage for long-term investors to use exchange traded funds instead of index mutual funds. It's an excellent question, to be sure.
Andrea @ So Over This writes More Money, More Gifts: Effective Ways to Save on Holiday Shopping – There are so many people looking to save money during the holidays while also getting the gifts that they want for their family and friends. Fortunately, there are several effective ways that this goal can be accomplished.
Lily @ Paying Debt Down writes Money Saving Holiday Shopping Tips 2013 – Did you go so far over budget on your holiday spending last year that you didn not pay off your bills until the Fourth of July? If yes, then this post is definitely for you.
Bob @ Dwindling Debt writes How Much Do You Actually Need for Retirement? – It might seem rather difficult to determine exactly how much money you need for retirement, as there are so many variables that come into play.
Katie @ IRA Basics writes The Secret of Saving for Your First Deposit – Are you ready to become a homeowner and do not fancy a no-deposit home loan? Then the biggest obstacle standing in your way is the first deposit or down payment.
Sam @ The New Business Blog writes Not All Mortgages are Created Equal: Three Reasons Why – In 2013 fewer Americans than ever put pretax dollars a way to cover future medical expenses but changes in 2014 will make these flexible spending accounts bit more attractive. These new changes will actually give taxpayers a bit of extra time to use their money.
Marissa @ Finance Triggers writes How to spot a good mortgage broker from a bad one – How can you decide if a mortgage broker is a good one or a bad one? The best way is to learn the answers to these questions.
Marissa @ Thirty Six Months writes Conference Planning: Not for the Weak – The days were still long and humid when I first sat down to plan out the idea of Canada's first fashion and beauty conference in Toronto. My first call was to Anjali, our content and programming Director, who sat down and listened to me without judgement. I was scared. I tend to get these crazy ideas in my head, and recruit people who I think would be great.
Justin @ Edward Antrobus writes 10 Reasons To Consider Small Business Exporting – Exporting used to be seen as something that only the bigger companies really did. These days the process is more accessible than ever before, even to small businesses.
Aaron @ Aaron Hung writes How to Get a Credit Card for Your Startup – Some argue that the best way to avoid debt is to pay it down right away. This is not always the case. If you dream of running your own business someday, you have likely weighed the option of using a credit card against using capital for financial needs.
Chad @ The Stock Market and I writes The Coming Challenge to Diversification – With stocks and bonds appreciating at the same time, investors will have to make some tough decisions as pricing in both bonds and stocks will likely decline together.
Dee @ Color Me Frugal writes Top 6 Reasons to Look Your Bank Statements Over Carefully – Bank errors happen more often than we'd like! Find out what you need to be looking for to keep your money safe
Buck @ Buck Inspire writes Club MomMe Family Fall Fest 2013 Entrepreneurship for Moms Recap – Like I mentioned in my Club MomMe Family Fall Fest 2013 Recap, the Entrepreneurship for Moms speaker panel was one hour filled of informational and inspirational stories. The interesting thing was you could not get a more diverse mix of styles and personalities.
Monica @ Monica On Money writes It's Beginning To Look A Lot Like Christmas! – I personally have decided to skip Black Friday shopping this year, mostly because in the past I have spent a lot of money on Black Friday for random things on sale that I did not need. It is tempting to buy something just because its on sale.
Holly @ Club Thrifty writes Avoiding Obamacare: Screw You Guys, I'm Outta Here – Avoiding Obamacare has become my goal over the past few months and I think I found a way to do just that. Read about it here.
Krantz @ KrantCents writes The Best Small Investments for Future Cash Flows – As many of us are averse to risk when it comes to money, here are a few of the best small investment options that are best for your future returns.
Natalie @ Debt and the Girl writes Finding Out What Makes You Thankful This Holiday Season – This time of the year always makes me reflect on certain things in my life and how fortunate I am for what I have. It also makes me reflect on certain things that I can do to make things better for myself and those that I care about.
Roger Wohlner @ The Chicago Financial Planner writes New Stock Market Highs: It's Different This Time Right? – This year the markets are again reaching record highs. Both the Dow Jones Industrial Average and the S&P 500 stand at record levels as I write this. No worries say the experts. Valuations are reasonable and this isn't a bubble (translation, it's different this time). We don't know how this will turn out, but hopefully those of you with any degree of common sense will recall and apply the lessons of the past 15 years.
Alexa @ Single Moms Income writes My Work at Home Truths – It has officially been one month since I quit my job to work on my online businesses. Over this past month I have had some revelations.
Andy Prescott @ Art of Being Cheap writes Why credit cards are the best way to pay – The fact of the matter is that credit cards are the best way to pay for all of your purchases. They are the most convenient way to pay, they are the cheapest way to pay, and they are the safest way to pay.
Sustainable PF @ Sustainable Personal Finance writes How Mobile Banking Can Help You and the Environment – Thanks to technology, it is possible to stay on top of your banking anytime you want. Not only is this helpful for you, but it can also be helpful for the environment.
Alexa @ Defeat Our Debt writes How to Use a Zero Sum Budget – If you want to improve your financial health you need to budget. Here is how you can use a zero sum budget to improve your personal finances.
Jason @ The Money Makers writes Olivia Wilde is Having a Baby: What are the first-month expenses? – Olivia Wilde recently announced her pregnancy with fiance Jason Sudeikis as she is due with her first child in the coming year. Although the couple have declined to reveal their due date, they likely are expecting to set aside a budget for their baby, even with their high incomes.
Graham @ Moneystepper writes 2014 New Year Resolutions – Update on my 2014 goals – Maybe I'm being a little impatient, but I started early this year! Check out my November progress!
Daisy @ When Life Give You Lemons writes How To Break Bad Financial Habits and Live Your Ideal Life – If you have bad habits, financial or otherwise, here is a step-by-step plan to help you overcome them so that you too can be happier and look forward to the life you have ahead of you.
Adam @ Money Bulldog writes How Long Could You Live Without Your Salary? – The importance of having a backup plan when you suddenly lose your job.
Adam @ Money Rebound writes Finding the Balance Between Saving Money and Living Life to the Full – Working through the challenges of enjoying life on a budget while finding that perfect middle ground.
Adam @ The Cheapest Cars To Insure writes What Does Fully Comprehensive Insurance Cover? – How you can make sure that you're buying enough with the right insurance for your car.
GenY @ Gen Y Finances writes Renting versus Buying – Home ownership in the United States is often times considered the American Dream. The fact of the matter is that home ownership is not all fun and games. It is a huge commitment that requires more than just money.
may @ Messy Money writes ould a Couple of Monkeys…or My Kids…Pick a Winning Stock Portfolio in this Market? – I don't have access to a group of monkeys, so I did the next best thing, I asked my kids to each pick out a portfolio of 10 stocks. Here is how they did…..
FI Pilgrim @ FI Journey writes Avoid Overspending When Throwing A Pity Party – Do you have a tendency to spend money when you are having a pity party? Trying to make up for lost time, or make yourself feel better?
Brock Kernin @ Clever Dude writes One Simple Question That Could Change Your Life – Before you buy anything, ask yourself this one question….it could change everything!
Christopher @ This That and The MBA writes Saving For The Future – When money is tight we look towards brighter days. Having an account where your money is not locked away is critical when the economy is not doing well. It could happen at any moment that you lose your job.
Bryan @ Gajizmo writes Jobs That Pay Well – Tired of stressful 80-hour work weeks? Maybe self-employment or entrepreneurship isn't for you either? Ever wonder how some people you know make a great living at a cushy, easy job? Check out this list of the easiest jobs that pay well. You'll be surprised what you find.
Dollar @ Easy Extra Dollar writes How To Manage Your Money – Managing your money helps you figure out where your money is going and whether or not you are living beyond your means, ensuring you avoid debt and are able to save money for emergencies and achievement of your future goals.
Ben Luthi @ The Wealth Gospel writes Rules of Thumb to Ignore – Rules of thumb can be helpful when you're just starting to learn how to deal with your finances. But for some people, they can be holding you back from reaching your potential.
Connie @ Savvy With Saving writes The Twenty Dollar Trick: Does It Really Work? – Will $20 get you a hotel room upgrade?
Miss T. @ Prairie Eco Thrifter writes How Social Media Can Help Your Career – Social media allows you to see whenever somebody gets a promotion or changes a job, and helps you keep those connections strong. Your network can do a lot for you during the course of your career, so it's important to maintain it.
Jon @ Increase Credit Limit writes How To Increase Your Credit Limit – Even if you might know that you should increase your credit limit, that information will do you no good unless you know how to get it done. So, here are some tips for how you can increase your credit limit.
Lazy Man @ Lazy Man and Money writes Ask the Readers: What's Your Favorite Deal Site? – I shouldn't have to say it, but I will, visiting deal sites is not a key to frugal living. However, when it works, it's a thing of beauty. Today was one such example.
Christine @ CO123 writes Edible Arrangements Coupons For The Holidays – It's the holiday season and with family visiting, engagement parties, holiday parties, and office get-togethers, we all need coupon codes to help us save money. Check out coupons from everyday favorites like Dominos or even fruit bouquets from Edible Arrangements.
Jon Haver @ Pay My Student Loans writes 5 Reasons to Refinance Your Student Loans – College graduates have a lot on items on their "to do" list; resumes, job interviews and perhaps finding a new place to live. You may also want to consider refinancing your student loans.
Justin @ Root of Good @ Root of Good writes Three Months of Early Retirement – In this tell-all exposé, Justin reveals the secret life of a 33 year old early retiree. Buying baby diapers in bulk, repairing appliances, tracking spending. It's all in here folks!
John @ Frugal Rules writes My Retirement Dream: To Keep Working! – Many want to follow the traditional retirement dream of working until 65 and then leaving the workforce completely. My retirement dream is different – to continue working. With frugal living and an aggressive investing strategy I believe many can pursue that dream and eventually work for yourself in retirement.
Fiona @ ReadyForZero Blog writes How To Network On a Budget – Networking can help you make valuable professional connections and potentially benefit your career as a result. But when networking goes beyond connecting via LinkedIn and wanders into the realm of professional lunches or happy hours, your wallet can really feel the strain. We share how to successfully network without busting your budget!
Brian Fourman @ Luke1428 writes Be Intentional: How to Develop a Giving Plan – Feel like giving has become an obligation? Unsure about where to send your money? This five step plan will show you how to become intentional with your giving and maximize the return on your donation. Experience the joy and freedom that comes from giving wisely.
Kate @ On Better Terms writes Why It's Important to Save for Retirement Even When Money is Tight – People are living longer, but retiring at the same age. What does that mean? It means compound interest and saving as soon as possible is more important than ever.
Little House @ Little House in the Valley writes 'Tis the Season to Stay Motivated – How do you stay motivated during the season of over indulgence? Stay focused. Stick to your plan. Write it on the walls or where ever you need that motivation to be.
Matt Becker @ Mom and Dad Money writes What to Look For in a Disability Insurance Policy – There are a lot of variables to consider when looking at disability insurance, and with all of the different terms it can quickly get confusing. Today I'd like to explain some of the most common and important characteristics of a disability insurance policy so that you can make a more informed decision when evaluating your options.
J Rodriguez @ Modest Money writes Are Rewards Credit Cards A Danger To Society? – Rewards credit cards have a pretty bad rap for becoming a debt trap. Is that true, are they really a debt trap?
Chris @ MyTermLife123 writes What Is Term Life Insurance? – You've heard about life insurance, but what about the different types of policies? Do you know what differentiates between term versus whole life insurance, and the pros and cons of each type of coverage? While shopping this holiday season, think about your life insurance needs as well.
Jim @ Critical Financial writes Not All Billionaires Are Money Grubbing Tyrants – We all can agree Warren Buffett is one of, if not the most successful investor of all time. That accolade may continue for many generations to come,
Harry Campbell @ Your PF Pro writes "Lots of New Amex Sync Offers: $25 Free at Amazon.com " – Last summer I wrote about all the great benefits of my Amex cards when it came to promotions with social media. The promotions this past summer weren't as good but there were still a few decent ones here and there. But with Christmas time coming up, Amex is really turning up the heat when it comes to partnerships and free cash back for spending.
Harry Campbell @ The Four Hour Work Day writes How Efficient Are You at Work? – For those of you who don't know, I recently had the pleasure of testing out the four hour work day. Although my experiment only lasted a few months, it gave me great insight into what it would be like if I was working for myself full time. And by full time, of course I really mean only four hours a day
Jefferson @ See Debt Run writes Building a Niche Site – Step One: SEO Research – Niche sites can be an excellent way to generate income. This article discussed how to do SEO keyword research for your niche site with Market Samurai.
Mel @ brokeGIRLrich writes Why Debt Sucks – Meet Pete. See him rip out my heart. See me leave Pete in the dust.
Jon @ Novel Investor writes Year End Financial Review To-Do List – A year end financial review is a great way to take stock of your money goals each year, see what worked, what didn't, and make adjustments for the new year.
Mr.CBB @ Canadian Budget Binder writes Comparing comparison sites in Canada – Before you run out to spend your money you might be able to check the price and model online to get the best price going and save yourself some money.
Grayson @ Debt Roundup writes Dear Verizon, This Is Our Final Goodbye! – After 14 years of being a loyal Verizon customer, I have decided to move on. After mutiple price increases, I realized there were many other options that would cost me much less. I left Verizon for a no-contract plan and brought my wife with me.
Zach Snyder @ Tumblr writes Pre-Polyphasing #2 – The steps I will take before entering polyphasic sleep.
Andrew @ Bluegrass Finance writes Should I Buy a New Car in December or January? – The end of the year, as well as the start of the new one, are known to be great times to buy a car. But which month is best? January or December?
Jacob @ Cash Cow Couple writes Low Cost Cell Phone Plans – We've been researching the cheapest cell phone plans available. Come check them out and save a boatload of money on your monthly bill!
Gabe @ CPA Tax Guy writes Accountant Tips for Taxes – If you're looking to find ways to save money on taxes before the upcoming IRS filing, come read and learn.
KK @ Student Debt Survivor writes Dear Santa, I Hope You Got a Raise This Year! – Brand new BMWs, $10 million dollar bras, and $200 tea sets? Santa better have a big Christmas budget!